This listing has ended.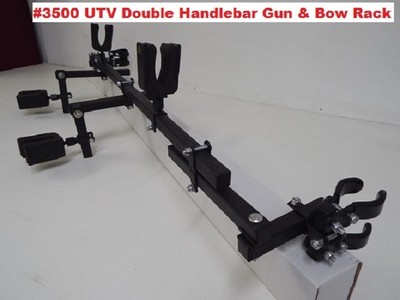 Similar items you may be interested in
Sporting Goods > Hunting > Gun Storage > Racks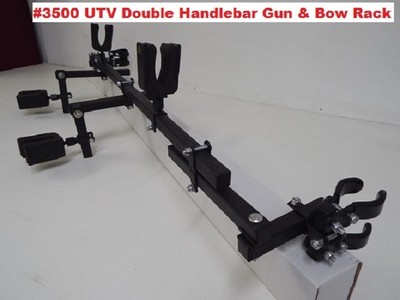 Similar items you may be interested in
Description
Our #3500(front double gun and bow rack) is the most versatile gun and bow rack for any UTV.

The #3500 will do all the same applications that our #2000 does ,but also allows you to hold your weapons across the front of cart, by holding two guns or bows or gun and bow ,horizontally across the dash.

It also will allow you to stand two guns up by holding them by their forearm and placing the butt in the floor, and still laying one gun or bow across the dash.

The 3500 comes with four Square Base Mounting Adapters, four 1" Universal Squares, one 1"x48" Bar, four Heads with Swivel Balls and Inserts, fourteen 5/16-18 Lock Nuts, fourteen 5/16-1"3/4 Colt Carriages, two 5/15-18 1"1/2 Carriage Bolts, two Straight Mount assemblies and 90 Deg.

Adjustable Assembly.